Date:
Saturday, April 15, 2023 - 9:00am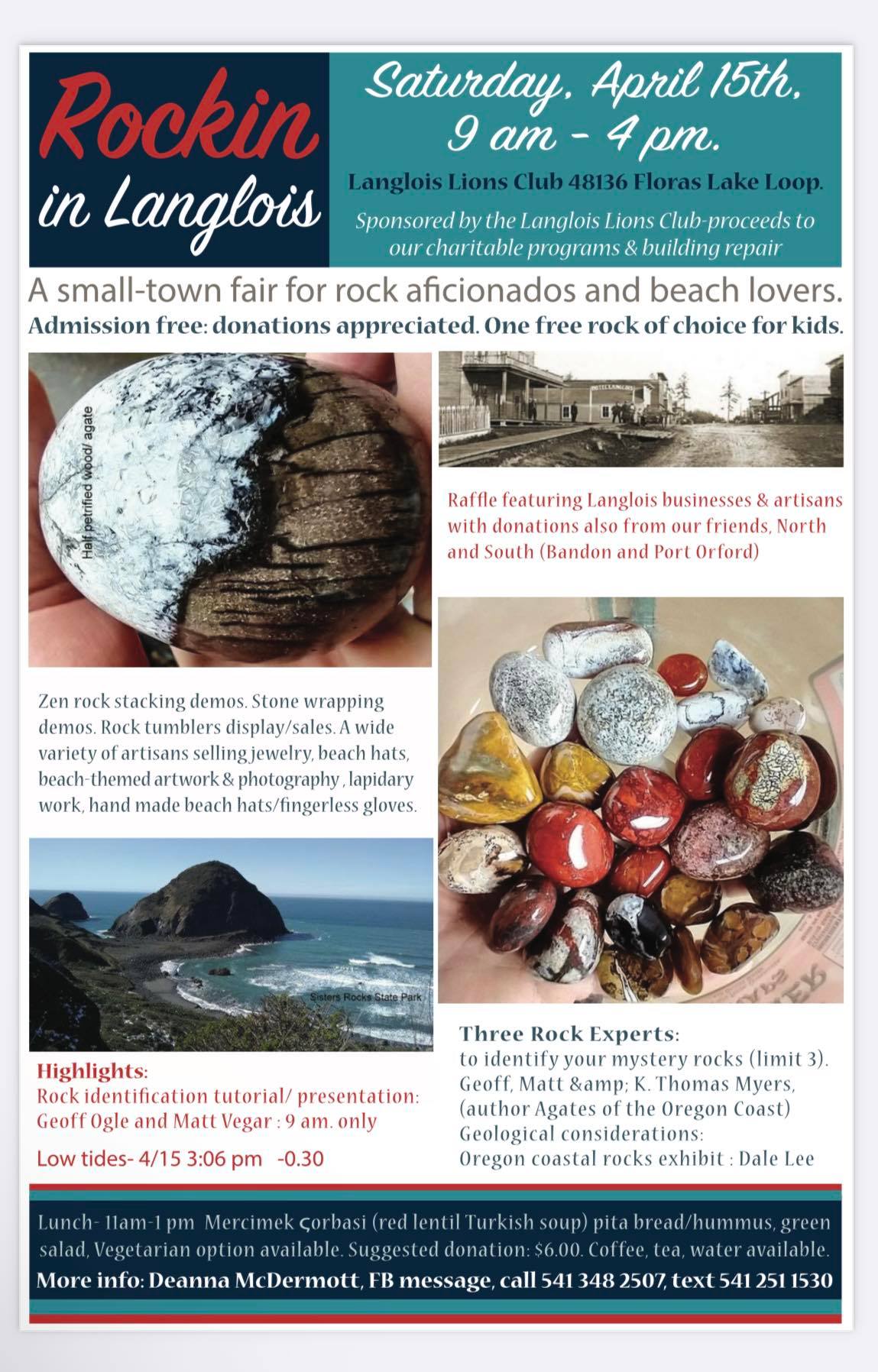 The Langlois Lions Club is hosting an event: " Rockin in Langlois", a small town fair for rock aficionados and beach lovers on Saturday, April 15th 9am-4pm at the Lions Club, 48136 Floras Lake Loop.
This type of event is the first of its kind on this part of the southern Oregon coast. Admission is free with donations appreciated and/or please consider buying raffle tickets. A free rock given to each kid.
The main features: 9 am tutorial on rock identification by Geoff Ogle and Matt Vegar, also serving as on-site rock experts. The third expert, K Thomas Myers, author of the pocket guide "Agates of the Oregon Coast," will bring a display to see and feel these samples up close and personal. Rocks limited to 3 a person.
Other highlights include a selection of great vendors with beach-themed products such as photography, sun-catchers, lapidary stone, jewelry, plants, hand-made hats, and more.
Draws of note: Cody Easom; salesman for Extreme Tumblers, geological aspects of our shore rocks exhibit by Dale Lee, and a raffle featuring businesses of Langlois with help from our friends, Port Orford and Bandon.
Demonstrations: zen rock stacking, wire rock wrapping with rocks provided and creations of sun-catcher.s For this project, please bring in your favorite nickel-sized agate. However, some agates will be available if needed. Please note: the vendors for the demos will charge a small fee if object taken home
A special lunch not found else where on the coast will be served from 11am- 1 pm Mercimek Çorbası; a red lentil soup- a Turkish favorite-, pita & hummus, small salad for suggested donation of $6.00.
This event will also provide the opportunity for people to meet and greet other like-minded people, maybe, even a bit of show and tell. Please follow the new FB page " Rockin' in Langlois" for more information such as vendor and raffle details. Contact D. McDermott : 541 348 2507, 541 251 1530 or FB message.