Date:
Wednesday, January 8, 2020 - 6:30pm
The Langlois Library Board update:
We would like to keep the community informed of the upcoming changes in keeping with revitalizing the library. The most important item: please note that the regular board meeting date has been changed permanently to the 2rd Wednesday of each month at 6: 30 pm. The next meeting: January 8th.. Again we encourage the public to attend to hear how the library is progressing. Your input is invaluable. We alsos have appointed a new board member after several months of vacancy for position # 5- Deanna McDermott.
Library hours have increased to six days a week, Mon through Sat 11 am-5 pm. Two new enthusiastic employees have been hired: Lo Saechao & Annie Wilson. Denise Willms, library consultant, remains on site on Fridays and Saturdays and is available for phone consults otherwise.
The new web site is up and running and is worth a visit at https://langloispubliclibrary.org/. Besides access to Coastline Libraries Catalog, one can find profiles of the new board members, events and more. If you have any concerns, please use the web site for board member contact information.
We can be found on Facebook as well.
The library is again accepting donations of books for the Friends of the Langlois Library book sale on Saturday, Feb 29 9am- 4p at the Langlois Lions Club. The library is unable to accept stained, mildewed or otherwise damaged books. In addition, because the following do not sell and is costly to get rid of, the library will no longer accept Reader's Digest magazines, any condensed books or encyclopedia sets.
The Just Jensens band is scheduled at the library from 3 pm to 4:30 on January 26th. This event, sponsored by the Friends of the Langlois Libary, is certain to be extremely enjoyable as the family continues with the founding father Charlie Jensen's great musical legacy.
Finally, the board and staff of the library are looking forward to continuing to enhance services to our patrons and we will keep the community informed as we progress.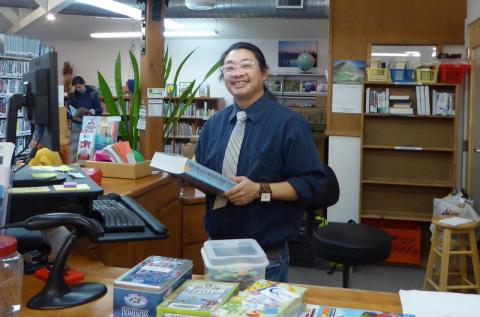 Lo Saechoa
Annie Wilson