Date:
Saturday, December 3, 2016 -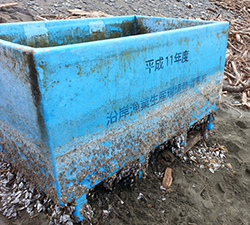 Gold Beach, OR – Southwestern Oregon Community College is offering a Marine Debris workshop in Gold Beach. This workshop will explore how marine debris is generated, what happens to it, and its effect on the ocean ecosystem.
 The worldwide production of plastics and other immortal materials has changed the face of our oceans. Marine debris has had a profound impact on marine life, both as a material and a raft for organisms.  Debris from the Eastern Northern Pacific as well as California and the Pacific Northwest reaches Oregon shores, bringing with it both open ocean species and species from coasts of origin.
The Friday evening discussion will cover types of debris, the origin and fate of debris, and how debris acts as long term rafts for marine organisms. Saturday morning, students are encouraged to walk a beach of their choice and photograph and/or collect debris (low tide is at 7:30 a.m.). The class will then meet to look at what was found, consider possible sources of the items, as well as identify and discuss any species present on the debris. Part of the discussion will center how to determine the source of individual items.
 The lecture is scheduled for Friday, December 2, 2016 from 6:00 to 8:30 p.m. at Southwestern's Gold Beach Center. Saturday, December 3, after an early morning beach walk on their own to collect debris, students will meet from 11:00 a.m. to 12:30 p.m. Cost for the workshop is $35.00. Pre-registration is required and can be made by calling the Gold Beach Center at 541-247-2741.