When you drive on Hwy 101 through Langlois, it's hard to visualize the many recreational opportunities that abound just a few miles away that have helped put Langlois on the map. Floras Lake State Park and Curry County-Boice Cope Park are home to Floras Lake Windsurfing and Kiteboarding school and Floras Lake House Bed & Breakfast.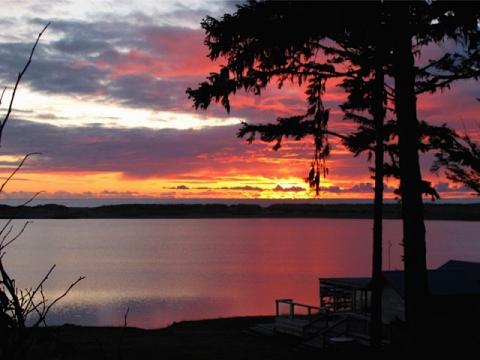 Floras Lake has become a major attraction over the years for beginner windsurfers and kitesurfers because of its steady, consistent northwest winds that blow from April through October and a wide and challenging array of sailing conditions . A short walk across Floras Lake outlet leads to the kite beach and the Pacific just over the sand spit, which separates fresh-water Floras Lake from the ocean.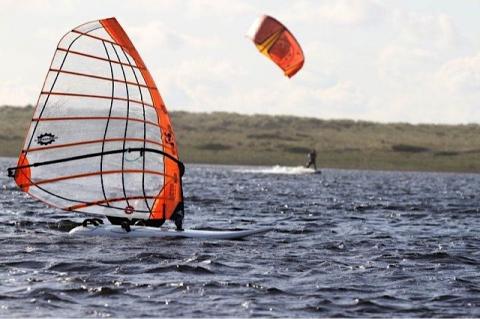 The action during the summer months is intense with great spectator viewing from the boat ramp or anywhere on the north end of the lake. Floras Lake Windsurfing and Kiteboarding is located on the southern end of the campground down on the lake's edge where you can rent sailboards, kayaks, standup paddle boards or take a lesson with one of our excellent instructors. Those not feeling as adventurous can either watch the action on the lake or can head to the beach to beachcomb for agates or explore below the incredible sandstone cliffs just south. Venture 2 miles to the point where you can see the small stream cascade over over the cliff's edge and flow into the ocean. You just might be the only one out there!
Also at the lake is Floras Lake House B & B, which was built and opened in 1991. While numerous guests are here to take part in the action on the lake, the majority of our guests are here to relax and enjoy the beauty of our area. Some of those guests have been coming faithfully each year since we opened. Floras Lake is special, so it's not too hard to understand why!
Floras Lake is a beautiful little gem just 3 miles off of the highway, waiting for you to explore!