Date:
Saturday, April 6, 2019 - 5:00pm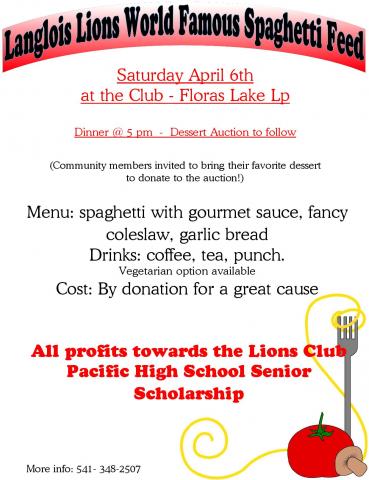 The Langlois Lions will be hosting our Famous Spaghetti Feed on Saturday, April 6th at the Lions Club on Floras Lake Loop. This benefit event is ear marked for our 2019 Pacific High School $1000 Scholarship and promises to be a lot of fun and all for a good cause.
Dinner starts at 5 pm with dessert auction to follow. The menu includes: spaghetti with gourmet sauce, fancy coleslaw, garlic bread and drinks (coffee, tea and punch). Vegetarian option available. Cost: by donation.
Community members are cordially invited to bring a favorite, maybe even a world famous dessert to be donated to the auction. Even if one can not attend, a dessert will be appreciated. Donations may be dropped off on Friday, March 5th from 9am- 1 pm or Saturday from 8 am on. The community has always been very generous in this effort and certainly, the donations add to the event and help make a qualified PHS senior a very happy student, especially when making future career decisions.
For more information: 541 348-2507