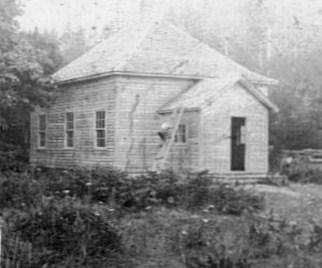 EARLY DAYS OF THE LANGLOIS SCHOOLS
The following story was written by Olive Kreutzer ( 1904-1991) who was a legendary figure in her own right. Olive, married to Louis in 1926, was the mother of the twins, Lowell and Lloyd, Kenneth, Ruth and Anne and was known for her outstanding community contributions. Written sometime after 1981. ( The year of the Centennial), it is faaithfully transcribed- comments for clarity in brackets. Used with permission 2014 by her son, Lowell Kreutzer.
D. McDermott
GERALDINE PURDY MERZ LOOKS BACK
One December evening in 1918, a shy little high school graduate arrived in Bandon aboard the old " Charm" a passenger boat on the Coquille River. Gerry was on her way to Langlois to begin her teaching career in the Floras Creek school. Certainly, she did not imagine the part that the people there would play in her future life.
A typical coastal storm was raging and the road south, now Highway 101 was a sea of mud. But the next morning, with Gerry the sole passenger, the mail truck wallowed through to Langlois. There she was informed that the newly-built road up Floras Creek was blocked by slides. Leaving her luggage in the general store, and with Charles Russell as guide, she hiked through the mud and water to the Joe and Susan Cox residence where she was to board. ( Going through the Guerin barnyard she kept Charles between her and the cattle. Gerry was afraid of cows!)
From the very first encounter the rugged settlers on Floras Creek welcomed the new teacher. They invited her into their homes and lives. Little did they realize how much Gerry needed this warmth and how grateful she was for it.
The tiny square school house was located at the end of a small field on the Russell farm. ( It was later re-modeled to become the Will Russell home. It is still in use after some 75 years). When the teacher rang the bell in the morning children came popping out of the brush with their lunch pails. Often they would be rain-soaked and would sit around the little wood stove to dry out.
There were 18 pupils, ages 6 to 16. Reading, spelling and arithmetic were studied every day; geography, history, physiology, writing, grammar, agriculture, and art were worked in on part-time schedules. To get all this in for six grades the teacher spent many hours out of school planning each day's work. What she lacked in experience and training, perhaps Gerry compensated for with boundless enthusiasm and love for her job.
About every six weeks a big canvas bag of books arrived from the Oregon State Library. They were selected to meet the needs of the school and community. They were enthusiastically enjoyed before being exchanged for a new supply. What a wonderful service this was when country schools had few books.
After two years in the little school, years filled with work and learning and real pleasure, Gerry left to enter O.C. E. [Oregon College of Education, now Western Oregon University, Monmouth]. She graduated and taught in Arlington and Pendleton. Then, in 1923, she returned to Langlois to teach the 9th and 10th grades.
The outlying districts were now consolidated with the Langlois district, and 3 school buses brought pupils to town. These buses were something. They were model-T pick-ups with home-built bus bodies. The pupils sat on board benches on each side. Canvas curtains could be rolled up, but because of the Oregon winter weather they were down most of the time and the interior of the bus was cold and dark. Nobody complained. It was all they had and sure beat walking. But the small children often arrived cold and tired.
The 9th and 10th grade room, together with three lower grade rooms, was located in the present elementary building. [Known as the Red Brick school, now closed and is private property.] ]It was not an ideal arrangement, but students and teacher made the best of it. Really, it turned out to be a good year.
Then the school board decided to repair the old, old school building and use it for a 3-year high school. They offered Gerry the opportunity to be on the high school faculty with the then generous salary of $ 200.00 per month.
So, in September of 1924, the first real Langlois high school was started with 16 students and 1 teacher. Gerry taught English II and III, algebra, bookkeeping, world history, and general science. It was a year of close rapport between teacher and pupils, and it included much fun as well as hard work.
The old Bowman hall was rented and Gerry began coaching basketball, boys two evenings each week and girls two. These kids had never seen a basketball game, but later in the year they played experienced teams from Bandon and Port Orford. They lost the games, of course, but what fun they had!
In the spring of 1925, it was decided to make Langlois high school a standard 4-year school. By enlarging the small library to 250 books, bringing the tiny laboratory up to standard, and doing the necessary paperwork, Gerry completed the requirements for a standard 4-year high school. This marked the end of her teaching career in Langlois.
Each fall when she had returned, the same young man was waiting for her arrival. (Later, he joked that she had returned once too often). Anyway, to the delight of the students, a month before the end of the spring term, Gerry came to school wearing a sparkling diamond ring
That fall she married Herman Merz, a local dairyman. The couple rented the Lex Cope farm near Langlois for two years. Then they moved away to start a business and a family of their own. They were blessed with a happy 50 years of life together before his death in 1976. Gerry never regretted teaching the Floras Creek school in 1918!
The Langlois Centennial brought Gerry Merz back to the old town. She was the guest of Olive Kreutzer, one of her students in 1923. She enjoyed every bit of the weekend, meeting many old friends and former students. The perfect weather, the delightful, well-managed events and the warm, friendly spirit so evident among the many hundreds who attended made the Langlois Centennial an outstanding event. It was a shining example of what can be accomplished by a small community of people who know how to co-operate.
Olive Kreutzer.
A most wonderful post -script:
The following obituary from The Siuslaw News, Florence, Oregon, January 14, 1987, page 2A, column 1.
Geraldine Purdy Merz, long-time resident of the Florence area, died Jan. 8, 1987 in Campbell, Calif. Merz was born on Dec. 6, 1900 in Red Wing, Minn., the daughter of William and Anna Purdy. The Purdy family moved to Woodburn in 1912. She has been a resident of Oregon since that time and married Herman John Merz on Sept. 2, 1925 in Turner. He died on March 12, 1976.
She was active in various community affairs all of her life. She was an active member of the Ada Grange for 50 years. She served her neighbors and community through 4-H, Western Lane Republican Women, Western Lane Hospital Auxiliary, Siuslaw Valley Parks and Recreation District, Siltcoos Home Extension, Florence Friends of the Library, Florence Community Concert Association, A.A.R.P., the Presbyterian Church of Florence and other organizations. Merz attended Willamette University and graduated from Monmouth Normal School in 1921. She taught elementary school in Langlois, Pendleton, Woodburn, and Upper Fiddle Creek School at Ada.
The Merz' move to the Fiddle Creek valley, southeast of Florence in 1927, operating Alderwold Dairy Farm for nearly 30 years. They developed a herd of registered Jersey cattle that won them national recognition. When they retired from the dairy business in 1955, they purchased property in north-central British Columbia. There they developed a beef ranch now owned and operated by their son David.
Survivors include her four children, Bob Merz and his wife Shirley of Florence, Marilyn Adkins of Campbell, Calif., David Merz and his wife Lois of Fort Fraser, British Columbia, Canada and Karen Christensen and her husband Gerald of Saratoga, Calif. Also surviving are her sisters, Ruth Rue of Salem, Frances Everest of Milwaukee, a brother, Kenneth Purdy of Turner and a sister-in-law, Amelia Merz Thorne of Coos Bay. A memorial service was held Monday, Jan. 12, at 1 p.m. at the Florence Christian Church.
For further details about this Floras Creek School, please see  Cox, Bonnie Jensen : School Evolution, A Study of Northern Curry and Southern Coos School Origins.  Available at the Langlois Public Library