Date:
Thursday, January 19, 2023 - 6:30pm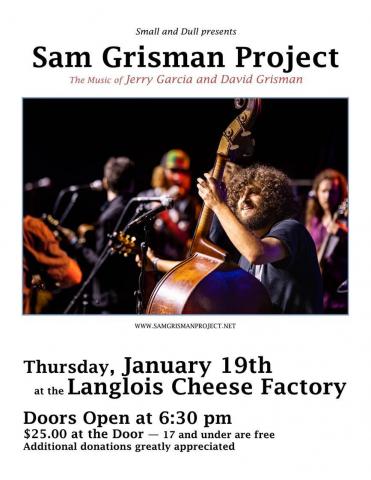 Sam Grisman is the son of David Grisman; a legendary bluegrass musician who joined Jerry Garcia's bluegrass band Old and In The Way in the 1970's, and later went on to collaborate with Garcia on a number of albums in the early 1990's. The music they made blended Grisman's mixture of bluegrass and Hot Club jazz with Garcia's love of old time and traditional tunes.
Sam, who is an accomplished bassist and recording session musician in his own right, is taking the Sam Grisman Project on the road to showcase the music of his father and Jerry Garcia. He'll be accompanied by a troupe of impressive players with roots in the Portland, New York, and New Orleans. Whether you came of age listening to Grisman-Garcia, or this is your first introduction to their music, the Sam Grisman Project will bring the Grateful Dawg sound to life and carry your feet to the dance floor. Hope to see you there, and Happy New Years!