Date:
Saturday, August 27, 2016 -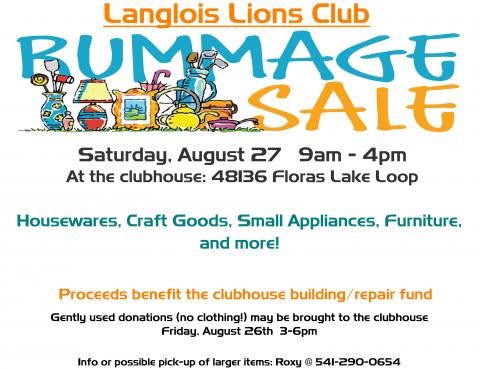 he Langlois Lions Club is holding a rummage sale Saturday, August 27th from 9 am to 4 pm. at the Lions Club, 48136 Floras Lake Loop. The purpose of this fundraiser to be able to update and fix our club house which was built in the 1970's and definitely is showing some wear and tear. The club house is often used by the community for birthday celebrations, memorials, the Langlois Library Book sale, and for the annual Holiday Craft fair. In addition, the club is rented by SWOCC for exercise classes. So it is important that we garner funds for fixing the building, not only for Lions , but for the entire community.
Drop off donated items from 3pm. to 6 pm. on Friday, the 26th. So we encourage you to start thinking about cleaning out closets and getting rid of unwanted stuff. We will accept only gently used items- no clothing . For more information or possible pick up of large items, contact Roxy at 541-290-0654.