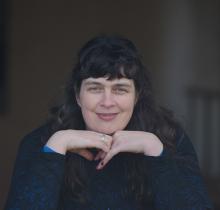 Kandi J Wyatt is a wife, mother of five, teacher, artist, and author. In her free time, she enjoys writing fantasy stories and Christmas programs, and drawing with graphite and colored pencils. Portraits are her specialty. Kandi also enjoys photography, thanks to her photographer husband who has let her join his journey as both his model and apprentice, and she occasionally serves as his assistant when he needs a "light stand with feet."
Kandi's kids have been born and raised in Langlois, and she teaches junior high and high school students at Pacific High School, where she is known as Señora Wyatt. She teaches drawing in the summer at Art By the Sea Gallery in Bandon.
To learn more, visit http://kandijwyatt.wordpress.com.
Books:
    The Dragon Courage series: Fantasy for everyone ages 10+
1. Dragon's Future:
 

Every child of Woolpren dreams of becoming one, but only a few are chosen. Now, ten-year-old twin brother and sister, Ruskya and Duskya, have been selected to join an elite group of riders: dragon riders. Full of awe and excitement, the twins leave their mother, and their home, to train for their new lives. Fifteen years later, dragons are becoming extinct and riders are rare. One day, Ruskya is at the general store in town when a man announces that he is recruiting new dragon riders. Ruskya goes undercover, and discovers that there is another colony of riders with their own agenda—a quest to find a mysterious plant that could restore the dragon population, or destroy it. When a battle erupts between the two colonies, it's up to Ruskya and his friends to fight for their dragons' future, and their lives.

Follow Ruskya's quest as he finds courage and friendship in this exciting middle grade fantasy series by new author Kandi J Wyatt.
2. Dragon's Heir:
 

In the ten winters since Kyanos was defeated, Rider Braidyn and his dragon, Turqueso, have made a place for themselves in the sleepy Boeskay colony. But when two nestlings are stolen from the hatchling cave, Braidyn's sense of justice leads him on a quest to find the person responsible.

After recovering one nestling, Braidyn recruits his old friends Ruskya and Carryl to help. The friends travel to a faraway desert colony where they find a group of riders with different customs, and meet a beautiful young woman who could be the key to finding the missing nestling. Can Braidyn learn to temper justice with mercy, or will he risk losing everything?

Journey along in this exciting fantasy world in the spellbinding second installment of the Dragon Courage series, Dragon's Heir, by Kandi J Wyatt.
3. Dragon's Revenge:
 

In search of his place in the world, Kyn visits his new friend, Ben'hyamene. Together, they meet an ailing dragon rider from the marshes of a land called the Carr. The rider recounts a people beset by anger, depression, and despair. After befriending and healing the rider, the group travels to the rider's home. There they discover a breed of wild dragons, called drakes, which have been at war with humans for four hundred years.

One sleepless night, Ben'hyamene uses his new abilities to communicate with the lead drake. This sets Kyn and Ben'hyamene on a path that could bring peace to a conflict that's nearly destroyed a whole people. Can revenge be set aside and enemies be called friends?

Find out in the exciting third book of the Dragon Courage series, Dragon's Revenge by Kandi J Wyatt
The One Who Sees Me: Christian Historical Fiction ages 10+

Teenage slave girl Faru's life has been turned upside down when she discovers she's been traded to a new master, forcing her to leave all she's ever known. Upon her arrival, Faru meets a friend, Cailean, who helps her adjust to life in the strange location. Life settles into a new pattern, and romance blossoms between the young friends. But as soon as they plan to get married, another proposal comes about – one that cannot be ignored. Being a slave means not always marrying who you love.    On a daring journey to heal her heart, Faru encounters the Existing One. Will she trust Him and do His bidding even if what He requests is so hard?

Follow Faru's tale in author Kandi J Wyatt's retelling of a Biblical story found in the Old Testament book of Genesis, showing that when things don't make sense, God will guide the way.

Links:
Amazon author page: http://www.amazon.com/Kandi-J.-Wyatt/e/B00ZTC4T10/
Website: http://kandijwyatt.wordpress.com
Facebook: http://facebook.com/kandijwyatt
Twitter: http://twitter.com/kandijwyatt