Date:
Monday, July 15, 2019 (All day)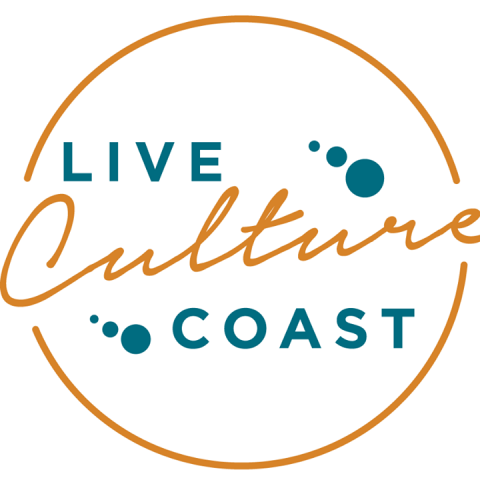 Calling all large--scale artists!
!
For the upcoming Live Culture Coast event, we are commissioning two temporary, large-scale, outdoor art installations that comment, communicate, and collaborate with the land on which they are assembled.
OVERVIEW
Live Culture Coast is a 10 day choose-your-own-adventure of food, art, and place across 135 miles — a social probiotic that invites both residents and visitors to more deeply experience Oregon's south coast from Reedsport to Brookings.
By plane, train, bus, car, buggy, bike, boat, or your own 2 feet, join us from anywhere between 2 hours and ten days, one stop or all 135 miles for experiences that ignite your curiosity and enliven your 5 senses. Place-based art, culinary workshops, outdoor adventures, and more await your visit to where land meets the sea, food transforms to ferments, and art flourishes with ecology.
Live Culture Coast will commission 2 original Art Works to be installed along the route. The work will be on public view at the Port of Gold Beach and Langlois Cheese Factory from October 18-27, 2019. We are seeking artists (individuals or teams) who are interested in creating site-responsive work and engaging with the landscape, landowners, and surrounding communities. This is an opportunity to contribute to a unique and exciting anchor event that incubates "creative placemaking" projects which elevate the south coast as a place to try entrepreneurial ideas and market the area globally to bring more visitors that return to share the experience with friends.
Artists are responsible for both installation and de-installation of their work and will have 5 days to install and 2 days to de-install. Artists are also responsible for monitoring the art work at least once a day and be available for media requests during the 10 days of the event. Artists retain ownership of the work after the DTour and will grant to LCC, OCVA, and OTC a non-exclusive, royalty-free license to use and prepare derivative works based upon the art installation.
Locations
1. Port of Gold Beach
• 3 areas of the port to choose from. Note the red numbers on this photo of the port.
• Here are photos of the parking lot area and of the 2 beach areas
2. Langlois Cheese Factory
• grassy areas between the stage and the factory
• Here are photos of the property
NOTE: Please do not reach out to the land managers. If you have questions, please attend a scheduled Site Visit or contact Creative Director Amber Peoples at liveculturecoast@gmail.com.
Helpful Tips
• Oregon's South Coast weather in October can be unpredictable, so plan for rain, cold, and high winds (especially at the port!)
• The landscape can dwarf even the most ambitious projects
• Audience interaction with installations ranges from drive-by to direct engagement. Keep both scenarios in mind as you develop your idea.
• For inspiration, look at photos of the landscapes as well as the 2018 Fermentation Fest: A Live Culture Convergence. http://bit.ly/LCCartinstallphotos
Proposal Selection Criteria:
• Reclaimed, reused, recycled, reimagined materials
• Artistic excellence and innovation
• Visual Impact
• Spirit of community collaboration with Oregon's south coast and specific location
• Demonstrated ability to realize
• Feasibility in the context of the larger event
• Withstand various weather conditions (rain, wind, heat, cold, etc)
• Curatorial Vision
• In ecology there is a concept called "edge environments" – areas between one sort of landscape and another, where ecosystems overlap. These edges tend to have more diversity (and therefore more hardiness) than either of the adjoining environments alone. These mixed-use zones, both literal and conceptual, characterize the Live Culture Coast experience and allows us to see new possibilities for our land, our work, and our communities.
Proposal Submission Requirements
• One page pdf Letter of Interest including contact information and desired location (Port of Gold Beach #1-3 or Langlois Cheese Factory)
• One page pdf Preliminary Project Concept including a bid estimate (an itemized budget is not required yet). The maximum allotment per art installation is $5000 — including materials and labor.
• Concept drawings or visual references in JPEG format "high" or "fine" quality, file size not to exceed 2 MB per image.
• 4-6 images of applicant's recent work demonstrating capacity to realize large-scale outdoor project. JPEG format "high" or "fine" quality, file size not to exceed 2 MB per image.
• Email submission to liveculturecoast@gmail.com with the subject "Art Work RFP Concept Submission" by July 15 at 5:00pm PST
TIMELINE
June 10 Announce Art Installation RFP
June 25&26 Site Visits with Live Culture Coast's Creative Director
June
une 25&26 Site Visits with Live Culture Coast's Creative Director
June 25: Port of Gold Beach (5:30 - 7:00pm) Meet by the public fish cleaning station
June 26: Cheese Factory (5:30 - 7:00pm) Meet by the stage
July 15 Email Applications due by 5:00pm PST
July 23 Finalists chose, notification sent to applicants
July 30 & 31 Finalist Site Visits and Dinner
July 30: Cheese Factory (5:30 - 8:30pm)
July 31: Port of Gold Beach (5:30 - 8:30pm)
Aug 21 Final Proposals due at 5:00pm PST
Aug 30 Artists chosen and contracted, notification sent to finalists
Oct 14-18 Installation of art work
Oct 18-27 Live Culture Coast, daily monitoring
Oct 23 Langlois Art Reception
Oct 25 Gold Beach Art Reception
Oct 28&29 De-installation of art work
Please submit designs and questions to Amber Peoples at liveculturecoast@gmail.com