Date:
Friday, November 17, 2017 - 9:00am
to
Saturday, November 18, 2017 - 4:00pm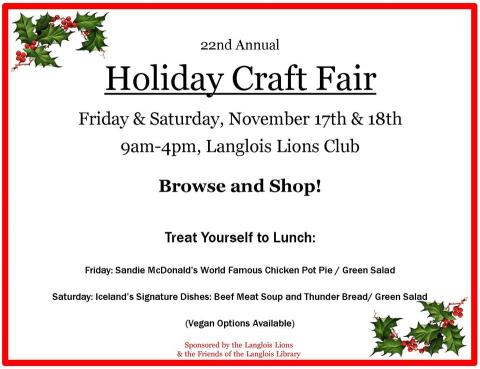 Start the season with a visit to the 22nd Annual Holiday Craft Fair at the Lions Hall on Floras Loop Road just south of Langlois. The Fair will be held on Friday and Saturday, November 17th and 18th from 9:00 a.m. to 4 p.m. and is sponsored by the Langlois Lions and the Friends of the Langlois Library.
Talented South Coast artists and craftspeople will be displaying a fabulous array of creations which will make shopping for holiday gifts a pleasure. Whether you are looking for a gift of wood, metal, fiber or locally grown food, you will find unique and surprising gifts at the Langlois Holiday Craft Fair.
Bring a friend and treat yourself to a lunch by Sandie McDonald. Friday, Sandie is serving her incredible chicken pot pie. Saturday, Icelandic Meat Stew and thunderbread are on the menu,. Vegetarian options are available.
Look for the Craft Fair signs on Highway 101. Parking is plentiful. Great shopping, food and friends! For more information, call the Langlois Public Library at (541) 348-2066.