Date:
Sunday, August 6, 2023 - 4:00pm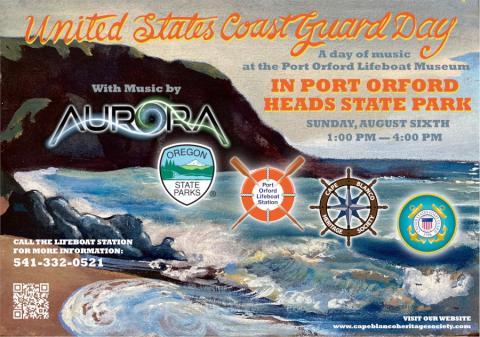 Picnic & Music in Port Orford Heads State Park. Bring chairs, blankets, a picnic lunch and enjoy local music at the Port Orford Heads Lifeboat Station Museum!
The 19th annual celebration of Coast Guard Day is scheduled to take place at Port Orford Heads State Park at 1:00 on Sunday, August 6th. Cape Blanco Heritage Society and Oregon Parks and Recreation Department sponsor the event.
Society President Priscilla Lang will serve as the Master of Ceremonies. Music will be provided by Bay Area favorite AURORA. Attendees are encouraged to bring picnic lunches and take advantage of the beautiful surroundings.
The Revenue Cutter Service was established on August 4th, 1790. The Cape Blanco Heritage Society usually celebrates the birth date of the organization on the 1st Sunday in August. The Cutter Service saw action during the Civil War and was instrumental in the development of Alaska. This branch of service was active in environmental protection dating back to the 1822 Timber Act that tasked them with protecting government timber from poachers. In 1915 the Revenue Cutter Service and Lifesaving Service were merged into the U.S. Coast Guard as we know it today.
Visit our Museum at the Port Orford Heads before or during the concert and learn more about the history of this interesting area and enjoy the beautiful hiking trails with the wonderful ocean views. The Port Orford Heads State Park is on the ocean side of Highway 101. Turn West on 9th Street in Port Orford, near Milepost 301, and then follow the road up the hill to where the road ends. For more information, call 541-332-0521 or visit capeblancoheritagesociety.com. ⎈⎈⎈